Stellar Phoenix Windows Data Recovery
Trial Download: Professional Technician Buy Now: Professional Technician

Technician Edition
Stellar Phoenix Windows Data Recovery - Professional seamlessly recovers all your

lost and deleted data after events like accidental deletion, hard drive corruption, operating

system crash. This read only and risk free software restores data back even from formatted

partitions and drives. Its sleek interface is designed to help you get back data in 2 easy

steps. You can now easily recover all of your lost or deleted data - files, documents, emails,

photos, databases, etc. from your hard disk and external drives connected to your system.

The software can scan a selected drive letter, a data folder or even computers that fail to

boot-up. All storage devices such as hard drive, memory card, USB drive and Optical drive

are supported.

Key Features:

Recovers deleted data from Hard Drives, CD/DVD, SD cards, and USB drives.

Recovers data from formatted partitions of your hard disk.

Recovers all kind of files, folders, documents, pictures, emails etc.

Recovers deleted/lost data from unbootable systems.

Provides a preview of the recoverable files before saving.

Offers a deep scan for highly corrupted hard drives.

Software allows to create image of entire partition for data recovery.

Supports Windows 10, 8.1, 8, 7, Vista, XP.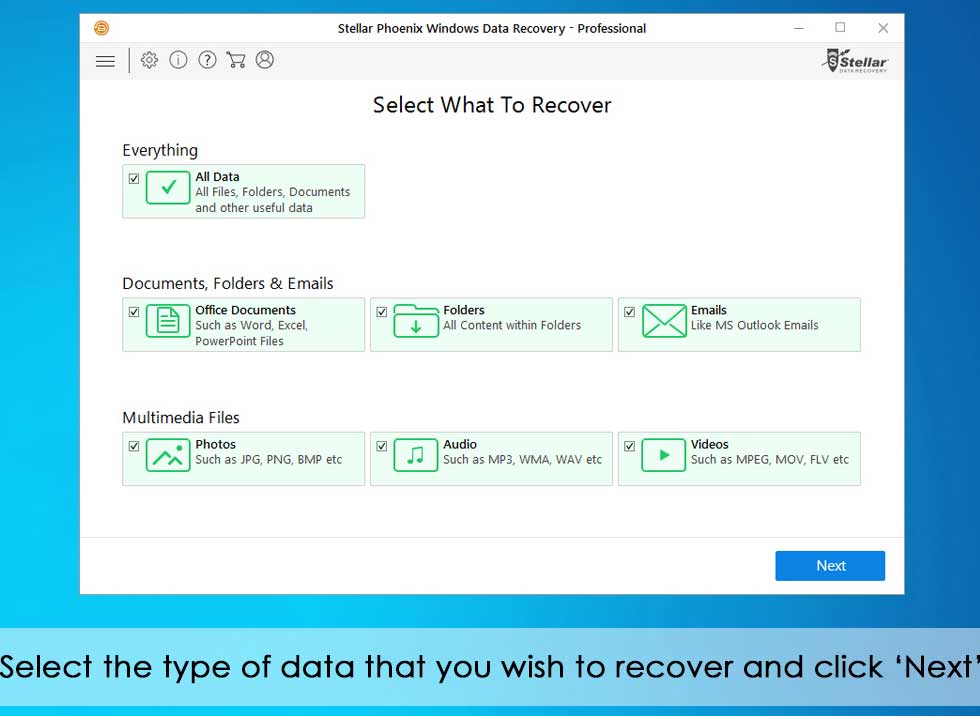 Technician Edition

Stellar Phoenix Windows Data Recovery Technician edition is a reliable and multifarious tool designed to
recover corrupt inaccessible data from logically damaged RAID arrays and Windows based internal or external
storage media.
The software has five dedicated modules:
Drive Recovery, CD DVD recovery, Photo Recovery, Email Recovery, RAID Recovery.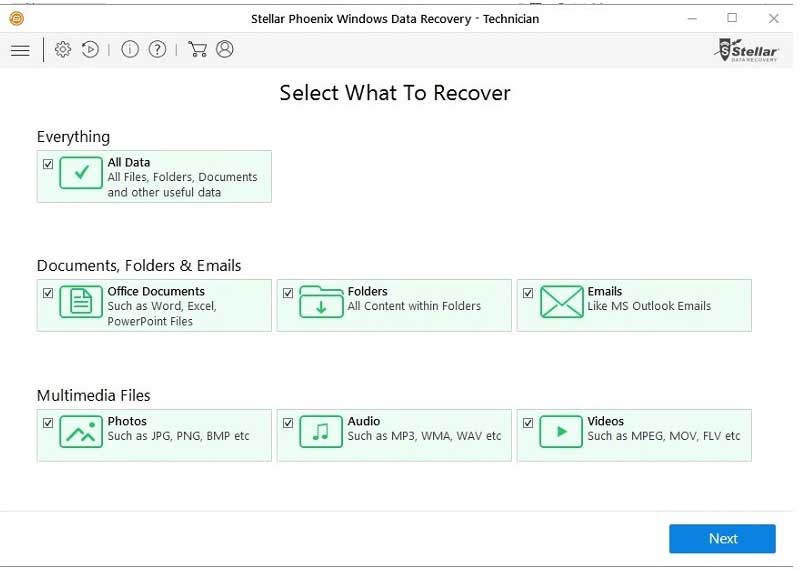 This advance software supports both hardware RAID (levels 0, 5, and 6) and software RAID (levels 0 and 5).
The software takes care of your RAID data recovery requirements and allows you to build a probable RAID
construction even when you forget your RAID parameters (Strip Size, Parity Order, and Parity Delay).
The tool ensures you are up and running even if you fail to build a probable RAID.

Key Features:

Safe and risk-free data recovery from RAID 0, RAID 5, and RAID 6 servers.


Recover corrupt or inaccessible data from Hard Drives, USBs, CD, DVD, SD Card etc.


Easy recovery of lost emails, photos, documents, databases, and more.


Recovers data over a network using 'Remote Recovery'.


Recovers user-defined file types and allows signatures-based file recovery .


Supports FAT, NTFS, and ExFAT file systems.